01

Solvent Base Resin

Solvent base resin is synthesis from polyester polyols, chain extending agents and isocyanate in a solvent polymerization. Based on product features, it can be used with different polymeric polyol and suitable additives. Such resins have various excellent functionality, for example, wear-resistant, waterproof, breathable, anti-static, anti-bacterial mold, wear comfortable, and other characteristics.

【Moisture Permeable】
● Application: All kinds of outdoor equipment and garment coating.

【Low Moisture Permeable】
● Application: Adhesive for all kinds of specialty paper, waterproof layer for garment, and leather / furniture adhesive.
02

Water Base Resin

Since the rise of environmental awareness in recent years, SBI dedicated to the research and the successful development of water-based PU resin. Compared to traditional solvent-based PU resin, water-based PU resin does not contain solvent. The physical properties are similar to that of traditional solvent-based PU resin, and it will not pollute the environment.
● Application: Leather coating, binder in leather
03

PU Foam Resin

Two-liquid-type foam PU, is formed by the synthetic reaction of isocyanate (with NCO on tail) and polyol (with –NH2 on tail). According to different requirement, one could change the percentage of short diol or diamine, catalyst, anti-tacky agent, foaming control agent, or water, etc. The process is under catalyst-condition, causing rapid reaction time. The reaction and foam-growing procedure are usually in 1~30 minutes, and the final properties of foam would be obtain in 1~2 days.
● Application: PU foam wheel, seat, handrails, and outsole, the insert, insole for all kinds of footwear.
● Advantage: Good flexibility, good abrasion resistance, hydrolysis resistance, good compression resilience, light weight.
04

Polyester Polyol

Polyester polyol is foamed by condensation of dicarboxy acid and dibasic alcohol. Alcohol would not only be used for long ester chain, but also be contained in the tail group (-OH). Therefore, alcohol should be excess 5~20% for condensation reaction. And the ration of polyacid and polyol should be determined by the desired final molecular weight or equivalent. Polyester polyols contain many ester group in structure, which leads to better product properties than polyether polyol, such as rigidity, thermal stability, permeability, oil resistance and adhesion.
● Application: PU resin, adhesive, foam, elastomer.
● Depends on the choice and the application of polyols, when choosing various polyols as PU formula, one should manipulate the structure of polyols, in order to concern the reaction condition and the usage of catalyst and additive, which would determine the morphology and properties of formed PU polymer.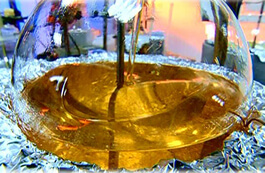 05

PU prepolymer / PU elastomer

Polyurethane elastomer is oligomer molecular chain with reactive isocyanate (-NCO) functional group added to both ends; at the time of infusion, mixing with double amines (-NH2), double alcohol (-OH) and other molecules to produce a high molecular weight polyurethane. Through the use of infusion devices or molds, perfusion can be mass-produced goods, such as industrial rollers, pulleys, roller stakes, PU runway, roofing, caulking construction.
The pre-polymer / elastomer developed by Shuang Bang has the performance between rubber and plastics. According to the recipe design, the products have high resilience, shock absorption, abrasion resistance, oil resistance, tear resistance, chemical corrosion and resistance to radiation and other properties. Customers can adjust formula according to their needs to make a variety of products.
● Application: Automobile industry, building material, shoe material, synthetic leather, medical equipment, sports gear, etc.
● Advantage: A great diversity of products, which covers most of the market demand. Customers can choose the prepolymer according to their needs r processing method or choose a set combination.
Need to use with MOCA
Combination Set
01

MDA / 4,4-METHYLENE DIANILINE

MDA is found as pale yellow flaky crystals at room temperature. It is only slightly soluble in water, but dissolves well in alcohols and other organic solvents. As a co-reactant of Epoxy resin, MDA reacts with Epoxy resin to allow the product having the following excellent properties:
● Produce no VOCs as hardening. Good dimensional stability because less shrinkage as reacting.
● High hardness, high flexibility, excellent abrasion resistance.
● Great thermos stability solvent resistance, and insulating properties.
● Strong adhesion with metal, wood, cement, ceramic, glass, etc.
● High storage stability.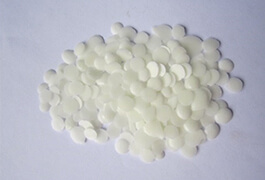 02

MOCA / 4,4'-METHYLENE-BIS(2-CHLOROANILINE)

4,4'-METHYLENE-BIS-(2-CHLOROANILINE), is also known as MOCA, MBOCA, DACPM, and bis amine. Pure MOCA is a colorless and odorless solid without impurities. MOCA is often made into light color or transparent PU elastomer.
Appearance of SM is granular, which is uniform and could be melted easily. LM is liquid and would not be crystallized in winter. LM could be used directly as processing without melting procedure, energy and labor hour could be reduced, and the product color could keep uniform. Our products are all powder-free and have no irritant odor, which lead to high operation environment safety.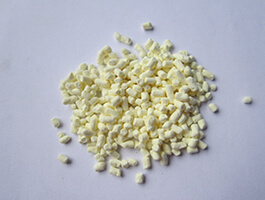 Photoinitiator is a chemical compound that breaks down into free radicals when exposed to light. In industries, photoinitiators are widely used to promote polymerization. In addition to the special formulation of photoinitiator and the adsorption of UV from high-intensity UV light curing equipment, the resin will produce free radicals or ions, which will lead to polymerization, crosslinking and grafting reactions. Resins (UV coatings, inks, adhesives, etc.) can be transferred from liquid to solids in seconds.
Product
Formula
Appearance
Purity
(%)
M.P.
(℃)
Volatile
(%)
Max.abs. band
(nm)
SB-PI 701
(EAB)
C21H28N2O
Light yellow to light green yellow solid powder
≧99%
92-98°C
≦0.5%
248nm
376nm
SB-PI 702
(BCIM)
C42H28Cl2O4
Yellow crystalline solid
≧99%
195-205°C
≦0.5%
263nm
SB-PI 703
(1173)
C10H12O2
Colorless to light yellow liquid
≧97%
-
-
260nm
360nm
SB-PI 704
(EDB)
C11H15NO2
White to light yellow/white solid powder
≧99%
62-65°C
≦0.5%
310nm
SB-PI 712
(MBP)
C14H12O
White powder crystal
≧99%
55-57°C
≦0.2%
SB-PI 714
(184)
C13H16O2
White solid powder
≧98%
46-49°C
≦0.5%
244nm
330nm
SB-PI 718
(TPO)
C22H21PO2
Yellow solid powder
≧97%
87-93°C
≦0.5%
260nm
360nm
SB-PI 719
(819)
C26H27O3P
Yellow solid powder
≧99%
131-135°C
≦0.5%
295nm
370nm
SB-PI 751
(BDK)
C16H16O3
White crystalline solid
≧99%
63-67°C
≦0.2%
250nm
340nm
SB-PI 769
(369)
C23H30N2O2
Light yellow solid powder
≧98%
110-114°C
≦0.5%
320nm
SB-PI 777
(I-907)
C15H21O2NS
White to beige solid powder
≧99%
72-75°C
≦0.25%
305nm
SB-PI 788
(ITX)
C16H14OS
Light yellow solid powder
>98%
74-76°C
≦0.5%
260nm
380nm
SB-PI 794
(784)
C30H22F4N2Ti
Yellow to orange powder
≧99%
165-170°C
≦0.5%
488nm
532nm
SB-PI 799
(DETX)
C17H16OS
Light yellow solid powder
≧98%
66-70°C
≦0.5%
257mm
382mm
Product
General Properties
Application
SB-PI 701
(EAB)
Good photoinitiator
UV curing system
SB-PI 702
(BCIM)
Good photoinitiator
UV curing system
SB-PI 703
(1173)
Liquid type photoinitiator. Solvent-like. Able to reduce the viscosity of formula.
Wood paint,clear finishing varnish,clear varnish,paper varnish,UV curable adhesive
SB-PI 704
(EDB)
Good photoinitiator
Printing ink,wood,paper,and metal varnish
SB-PI 712
(MBP)
SB-PI 714
(184)
Non-yellowing photoinitiator
Wood paint,clear finishing varnish,clear varnish,paper varnish,UV curable adhesive
SB-PI 718
(TPO)
Photoinitiator with longer adsorption wavelength
Mostly applied to white system
SB-PI 719
(819)
Photoinitiator with longer adsorption wavelength
Mostly applied to white system. Printing ink,wood,paper and metal varnish
SB-PI 751
(BDK)
High efficiency photoinitiator
UV curing system
SB-PI 769
(369)
High efficiency photoinitiator
Applied to colorful UV curing system
SB-PI 777
(I-907)
High efficiency photoinitiator
Mostly applied to GBK ink system. Usually applied as photoinsist or solder mask of electronics industry
SB-PI 788
(ITX)
High efficiency photo sensitizer,especially for color system
Used to enhance photo sensitivity with SB-PI 777
SB-PI 794
(784)
High efficiency photoinitiator
used as a UV-absorbent,pharmaceutical intermediates or used in UV-curing paints and inks
SB-PI 799
(DETX)
High efficiency photo sensitizer,especially for color system
Used to enhance photo sensitivity with SB-PI 777